3 Skin Routine Tips You Need During Winter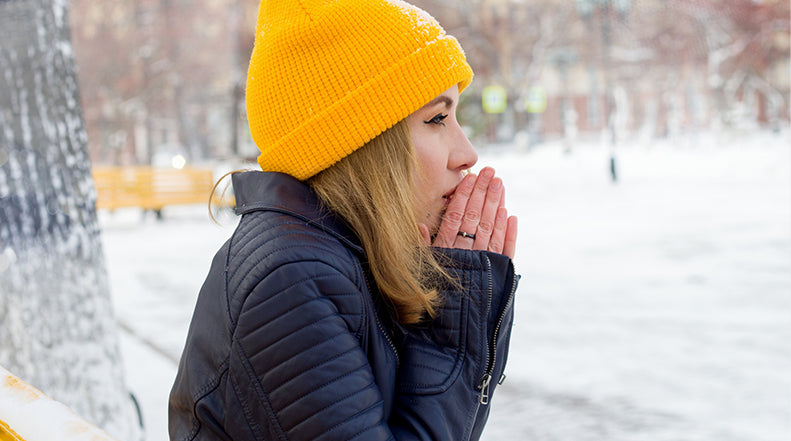 At NewGel+, our goal is to help you feel confident in your own skin. Along with offering our clinically proven scar treatment products, we aim to provide you with the knowledge and recommendations from the experts on how to maintain healthy, beautiful skin. As the seasons begin to change, one way you can keep your skin healthy and looking its best is by knowing how to adapt your routine for the colder fall and winter days that are just around the corner. Therefore, this post will fill you in on everything you need to know on how to update your skincare routine for cold weather.
1. INCORPORATE ANTIOXIDANTS
Incorporating products with antioxidants into your skincare routine is a good idea for any time of the year, but especially so in the fall. Why? Well, if you spend time in the sun over the summer then you may have noticed signs of damage on your skin, such as freckles, dark spots, uneven skin tone, fine lines and wrinkles. These signs of damage are caused by free radicals from exposure to UV radiation. Free radicals are highly unstable molecules with a single unpaired electron in their atomic orbital. In order to become more stable, free radicals will react with any and all molecules around them, ripping off electrons and starting a chain of reactions. If this chain of reactions includes our cells, important components such as cell membranes, proteins, and even our DNA will be damaged.
Luckily, antioxidants are the body's defense mechanism against free radical damage. Antioxidants work by neutralizing free radicals and breaking the chain of reactions. While there are hundreds of different antioxidants, those with the most evidence to support their skin benefits include vitamins C, E, and B3. These three antioxidants have a small molecular weight, which allows them to easily permeate the skin's surface.
Vitamin E is naturally produced within the skin to protect against UV radiation and is considered to be the predominant lipid soluble antioxidant in human skin. Vitamin C has been proven in multiple clinical studies to protect against UV radiation, stimulate collagen production, and reverse signs of sun damage. A double-blind study published in Dermatologic Surgery found that topical use of a vitamin C preparation can stimulate the skin to repair photodamage and result in clinically visible differences, as well as microscopically visible improvement. Furthermore, clinical studies have proven that the antioxidative protection is higher with the combination of vitamins C and E than with the vitamin C or E alone. Vitamin B3, also known as niacinamide, exerts antioxidant, anti-inflammatory, and anti-aging effects, as well as improves the epidermal barrier function. Incorporating products with these antioxidants into your skincare routine can help to reverse signs of sun damage while simultaneously protecting your skin from harmful free radicals.
2. DON'T PUT AWAY THE SUNSCREEN!
Even though the days are becoming shorter and the sun's rays aren't as powerful as they were in the summer months, daily sunscreen application is still a must. It is recommended to apply a broad spectrum SPF 30 sunscreen on all areas of exposed skin every day, rain or shine.
Sunscreen use is especially important if you have a scar. Scars require extra protection because they are very susceptible to the sun's damaging UV rays, which can cause scars to turn dark brown and thicken. While the best way to protect your scar from the sun is to cover it, we understand that it might not always be possible to fully cover your scar. But this doesn't mean you should leave your scar unprotected!
3. MOISTURIZE, MOISTURIZE, MOISTURIZE
Our final tip on how to update your skincare routine for cold weather is to ensure that your skin is getting plenty of moisture. New York dermatologist Dr. Debra Jaliman says, "When the weather changes the skin gets drier and flakier and can even get red." This is because the colder, drier weather makes your skin more susceptible to losing moisture. To combat this moisture loss, you might need to swap out your moisturizer. Gel and lotion moisturizers are commonly used in the summer since they are lightweight and contain a high water content. However, creams and serums are better for cold, dry weather because they provide a stronger oil barrier to lock in moisture.
It's also crucial to keep scars moisturized in the cold, dry weather as dehydration can lead to poor wound healing and abnormal scar formation. The best way to keep scars hydrated is with silicone gel products. The NewGel+ silicone gel sheeting provides a combination of occlusion (seals the scar from exposure to air), hydration, elevated skin temperature and continuous light pressure. Since there will be times when sheeting may be inconvenient, hard to secure, or unsightly, we've developed the NewGel+E topical silicone gel, which provides a combination of occlusion (seals the scar from exposure to air) and hydration.