Will a Tan Make Your Scar Look Better?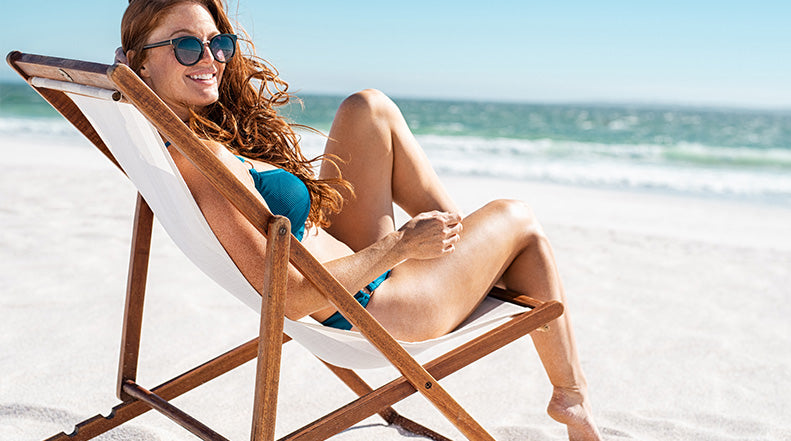 Summer is officially here! That means we will be spending more time outdoors at the beach or park soaking up the sun. While getting enough vitamin D by exposing your skin to the sun is extremely good for overall health, overexposure can be harmful and increase the risk of skin cancer and impact the appearance of any scars you may have..
Let's clear something up right now--a tan will not improve the appearance of your scar, and it is very likely to make it worse. It won't "blend in" your scar because the rest of your skin also gets darker. This applies to tanning outdoors, in a tanning bed (don't do it!), by spray tanning or applying self-tanner.
UV damage is a very serious problem for the body and can cause lifelong complications if not protected against. One of the lesser known complications of sun exposure is its impact on the appearance of scars when they are overexposed to sunlight. If you are actively pursuing treatment of your scar, avoid sun exposure as much as possible and wear protection.
WHAT HAPPENS WHEN A SCAR IS EXPOSED TO UV RAYS?
If your scar is overexposed to UV rays given off by the sun or indoor tanning bulbs, it may become hyperpigmented. This means that the scar and possibly some surrounding skin become much darker than the natural color of the skin. This darkening is caused when excess melanin, the brown pigment that produces normal skin color, forms deposits in the skin. This dark appearance of your scar can last for years and may possibly be permanent.
Sunscreen--it's not just for summer!
Scars should be protected from the sun year round, not just during the summer months when the sun feels the hottest. Anyone who is trying to reduce their scar's noticeability should cover their scar with sunblock whenever it will be exposed to natural or artificial UV light. The higher the SPF, the better. We have created NewGel+UV for extra protection for your scars, utilizing the physical sun blocker zinc oxide with the medical grade silicone. The fresher the scar, the more important it is to keep it completely covered and out of the sun to prevent permanent damage as it heals.
HOW A SCAR WILL REACT TO SPRAY TANNING AND SELF-TANNERS
has become popular in recent years. It is an alternative to tanning naturally, and is the best way to get a summer glow without the risks involved due to being exposed to the ultraviolet rays of the sun.
Unfortunately a "fake bake" may not be the answer for all noticeable scars. Newer scars react differently from older scars resulting in darker or lighter areas on your skin. Some scars will not absorb and react to the solution well. Some scars will actually become darker than the surrounding skin that was sprayed. This often occurs with older scars in areas where the skin is rougher, such as the elbows, knees and knuckles, or if the scar is raised with an uneven surface or distinct edges.
The good news is that spray tanning and self-tanners may help dark acne scars (not so much pitted, rolling or ice pick acne scars) and scars that have already become hyperpigmented due to sun exposure. Spray tanning non-severe dark acne scars may help reduce the appearance of hyperpigmentation by evening out the skin tone.
Testing a small area might be a good idea before fully committing to a spray tan so you can see how it reacts on your skin and scars, especially if your main reason for doing it is to camouflage them. You don't want to have tiger stripes or leopard spots! Better safe than sorry.
WHAT ABOUT THE DREADED STRETCH MARKS?
Stretch marks, which are a type of scars in the under layers of the skin, do not absorb tanning sprays and creams well. This means that while the surrounding skin becomes tan, the stretch mark itself may stay the original color. This will make the stretch mark even more noticeable than before! Again, it's best to test a small area first to see what will happen.
PREVENT, PREVENT, PREVENT!
The best plan of action with any new scar is to protect it from UV exposure so it becomes less noticeable and not hyperpigmented. Treating your scar with a silicone gel or strip like NewGel+ will help improve the appearance of your scar by fading, flattening and softening it, but if you don't take the extra step to prevent UV exposure it won't look as good as it would if you did. Apply NewGel+UV on scars that are not covered by clothing and are exposed to sunlight; the zinc oxide sunscreen has the most broad-spectrum coverage of UVA and UVB rays. We'd hate to say "I told you so!"
Related Articles: